Paragliding tandem flights
Free paragliding is using only natural thermic flows in the atmosphere to hold up and move in the air. Discover the experience of free flying and relax yourself with absolute safety in the hands of our experienced pilots. Tandem flying doesn't require the passenger to have any previous experience, skills, or particular body strength. Your desire to fly and experience something extraordinary and liberating is the only thing you need to free from gravity and find yourself ascending through the air, flying like a bird.
Skeye paragliding take off
Skeye paragliding landing
SKEYE can arrange transfer to the flight location (upon request).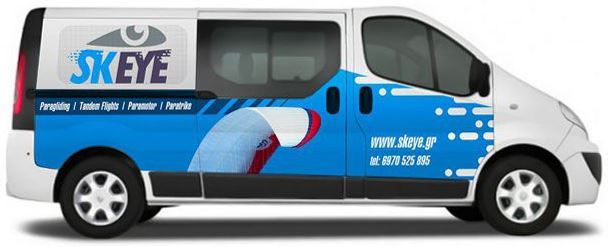 All summer (June – September), every day typically afternoon and evening hours. Our ability to fly depends on the weather conditions. For this reason we recommend you to confirm the actual conditions with us.
The price is 70 € for 10-15 minutes in the air.
Your flight can be captured on video and the footage given to you after the flight. Ask for it in advance!
Dress sporty and comfortably according to the prevailing weather conditions. Wear sneakers or hiking boots.
For more information and recommendations see FAQ below.
QUESTIONS? INTERESTED? WANT TO BOOK? 
The typical flight lasts 10-15 minutes but we can arrange various duration flights (upon agreement).
How can I book my flight?
Via contact form on the website www.skeye.gr/en/contact
Call or text on +30 694 934 3300
Message us on Facebook
Contact some of our authorized partners (hotels, tour operators)
How can I get to the flight locations?
Skeye can arrange transfer to and for the flying location for you (upon agreement).
What are the safety conditions?
Ensuring maximum safety is our main priority. For this reason:
we use the latest and new flight equipment.
all equipment is regularly checked and tested for proper functionality.
paratrike is equipped with ballistic rescue parachute.
paratrike itself, pilot and passenger are during flight equipped with life jackets with automatic inflatable system for case of landing on sea.
All our customers are insured by international insurance group APPI (Association of Paragliding Pilots and Instructors).
How should I prepare for the flight?
Dress accordingly to the prevailing weather conditions and wear sporty comfortable clothing.
Wear enclosed training sneakers or hiking boots.
It is recommended the passenger to have a light meal 3-5 hours prior flight and avoid alcohol consumption.
Can my flight be captured on video?
Yes, if you request it in advance we will make sure your flight is recorded on video and the footage will be given to you after the flight.
What is the age limit for the flight?
The minimum age limit for the paragliding tandem flight is 4 years old. There is no upper age limit.